Brand New Technology Yields PET Cups From Recycled Resin
NWPSC Tours MicroGREEN Polymers
Packaging's future is developing in a factory located just north of Seattle in the small city of Arlington, WA.
That's what four members – Lisa Sepanski, David Stitzhal, Dick Lilly and Molly Moore – of NWPSC's Packaging Committee learned on a visit to MicroGREEN Polymers on Oct. 15, 2013. The tour was sponsored and coordinated by Alan Blake, Executive Director of PAC NEXT, an initiative of The Packaging Association which is working toward "a world without packaging waste." The NWPSC Packaging Committee joined as an "association member" of PAC NEXT to stay abreast of developments in packaging technology and Extended Producer Responsibility (EPR) approaches to managing packaging.
What attracted the committee to Arlington was MicroGREEN's new technology for making hot and cold beverage cups out of PET (polyethylene terephthalate). The startup has licensed a patented process developed at the University of Washington that infuses micro-bubbles of carbon dioxide into PET so that the cups made from it are lighter weight and have considerable insulating properties. The process also changes the PET from clear, which we usually see in beverage bottles, to an opaque white.
Importantly, the company has committed to making all its cups from at least 50% recycled PET, which it sources from a half dozen plastics reclaimers around the country that are established producers of food-grade RPET (Recycled PET). MicroGREEN's plans include developing its own reclamation and decontamination facility to produce food-grade RPET in partnership with NW Native American tribes. This partnership will allow MicroGREEN to source PET from the broader market, including Material Recovery Facilities (MRFs) in this region.
MicroGREEN recently sold its hot beverage cup to Alaska Airlines and is hoping to sign up several more airlines by year's end. The airlines' interest is simple: MicroGREEN's cups are lighter than paper cups so they will actually save fuel costs over the course of a year, while improving insulation or other performance characteristics. And the flight attendants don't have to mess with cup "sleeves".
So far, though, MicroGREEN's PET cups can't be recycled with standard PET bottles because the cups are white rather than clear and the sorters at the MRFs sort them into the mixed plastic stream, which may or may not be recycled based on markets. MicroGREEN has committed to solving this problem by working closely with local MRFs and/or setting up dedicated recycling systems for its products.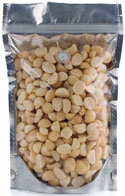 In their presentations to the group, Alan Blake and MicroGREEN's CTO Krishna Nadella highlighted the need for new recycling systems that can recognize and sort these new packaging materials and products. PAC NEXT and others in the packaging industry know that the new "flexible packaging" that's beginning to flood the market to store food such as ketchup, tuna fish and nuts while using up to 70% less packaging material compared to rigid packages, nevertheless can't be sorted or recycled by the recycling industry's current MRFs.
This underscores the need for packaging producers and designers to be in constant communication with the companies that collect and recycle the packaging materials. Unless end-of-life impacts are taken into account before new packaging and product designs are put on the market, there may be no way to sort these materials into valuable recyclable commodities – and they could just end up as more garbage.
–Dick Lilly, Chair, NWPSC Packaging Committee
Meet the entrepreneurs behind MicroGREEN Polymers, from UWTV: